This image is ridiculous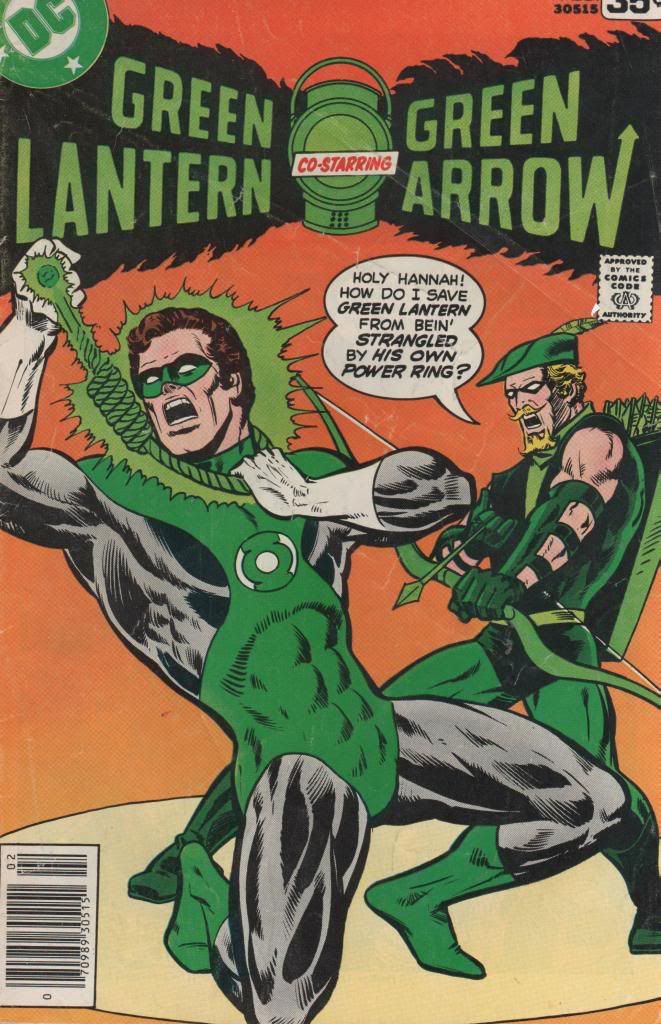 I was looking through my comics when I came upon this gem. It is a green lantern and green arrow crossover series. That is not really the part that caught my eye though. I'll give you a minute if you haven't realized the absurdity of the picture and if you have i'll let it stew a little longer……………. Ok, what the fuck is going on here. Green Lanterns control their ring using their will power and it would stop working if they passed out ( I think, I have seen comic where it maintains some life support function like when fighting in space and such) so this would be as effective in harming Hal as choking himself out with his own hand would be.  I had  a funny scenario worked out in which Oliver walks in on Hal practicing auto erotic asphyxiation and being embarrassed by getting walked in on Hal plays it off as his ring going rogue. Then a whole adventure ensues to find the culprit who attacked Hal.
In reality it was someone with mental powers was acting through someone in order to affect his ring and cause it to freak out. Hal and Oliver manage to shut down the organization and everything is happy…. I liked my version better.
* auto erotic asphyxiation is seriously dangerous and is responsible for more deaths in America in a year then bear attacks. Some ways to protect yourself and others:
Stay informed and stay active.
Be proactive and notice the signs in your friend and family i.e. rope burn around the neck area, them mentioning that they could go for a good choking.
Do not keep lengths of anything longer than 6 inches.
Lock up your belts.
Speak to your children about fetishes and get involved in fetish workshops at the community to better understand them
This post is dedicated to the memory of the great actor David Carradine.

December 8, 1936 (

1936-12-08

) – June 3, 2009